Yes. Me. I am parent of the week.
Well kinda.
I'm actually a parent all the time but over at
Avant Garde Parenting Blog
I am the parent of the week. So what! I was nominated by my husband. Atleast someone thinks I'm a good parent. :)
To be honest, when Jamie first emailed me in December and asked me and told me
my husband
nominated me I was not happy. I am not a writer, nor do I think I should be parent of any week. But I said yes I would do it and then threatened his life if he ever nominated me for anything every again.....LOL (I was serious!)
I wonder if I would ever be nominated as Wife of the Week, probably not so I better take the
Parent of Week
and have fun with it. Thanks Jamie!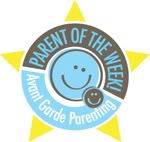 ◦